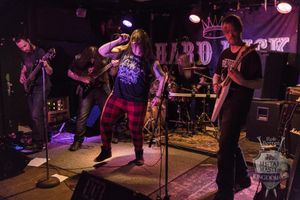 Does your band have a pre show ritual? 
​Chris Strange: We used to do jumping jacks to get ourselves pumped up and energetic. It was 
hilarious. Now we just eat and maybe have a beer. 
​Favourite show or event played so far? 
​Chris Strange: Brutal Battle Cuba competition in Oshawa, and our first show (Roxbury) was amazing 
too! 
Serena Dorton: I'd say our first show at the Roxbury forsure. But playing with the almighty 
Skeletonwitch and Beyond Creation was absolutely amazing!!
 
Read the full interview here: https://www.metalmasterkingdom.com/interviews-2017--2016/kavara-metal-master-kingdom-interview